Chicken karhai recipe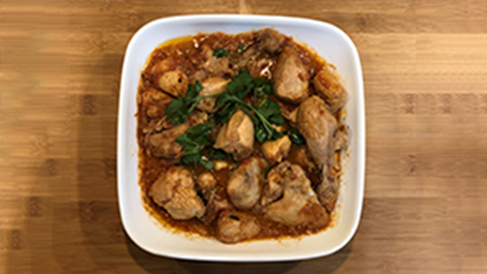 Category of the Recipe: Entrée
Serving Size: Serves 8
Serving Recommendation: Hot
Country/Ethnicity of Origin: Pakistan
About this recipe
This is a very popular dish served in most places in Pakistan.
Ingredients
1 whole chicken
1 tbsp ginger garlic paste
1 tsp salt
1/2 tsp black pepper
1/2 tsp crushed red pepper
2 serrano peppers (chopped)
4 roma tomatoes (sliced)
1 small yellow onion (sliced)
Step-by-step cooking instructions
Prep
Thinly slice the onions and tomatoes
Chop green chilies and cilantro
Set onions, tomatoes, chilies, and cilantro aside
Put pan on medium-high heat and add oil
Once the oil is heated, add onions. Fry onions until brown, stirring frequently.
When the onions are dark brown, add the chicken, ginger garlic paste, and salt. Stir to incorporate.
When the chicken is evenly light brown, turn down the heat to low and add the tomatoes, black pepper, and crushed red pepper. Cover and let the tomatoes soften.
Once the tomatoes soften, uncover the pan. Bring the heat to high and reduce the sauce. Add green chilies.
Once the sauce is thicker and mostly gone, turn off the heat. Add chopped cilantro and one spoon of ghee (optional).